2023-12-01

2023-12-31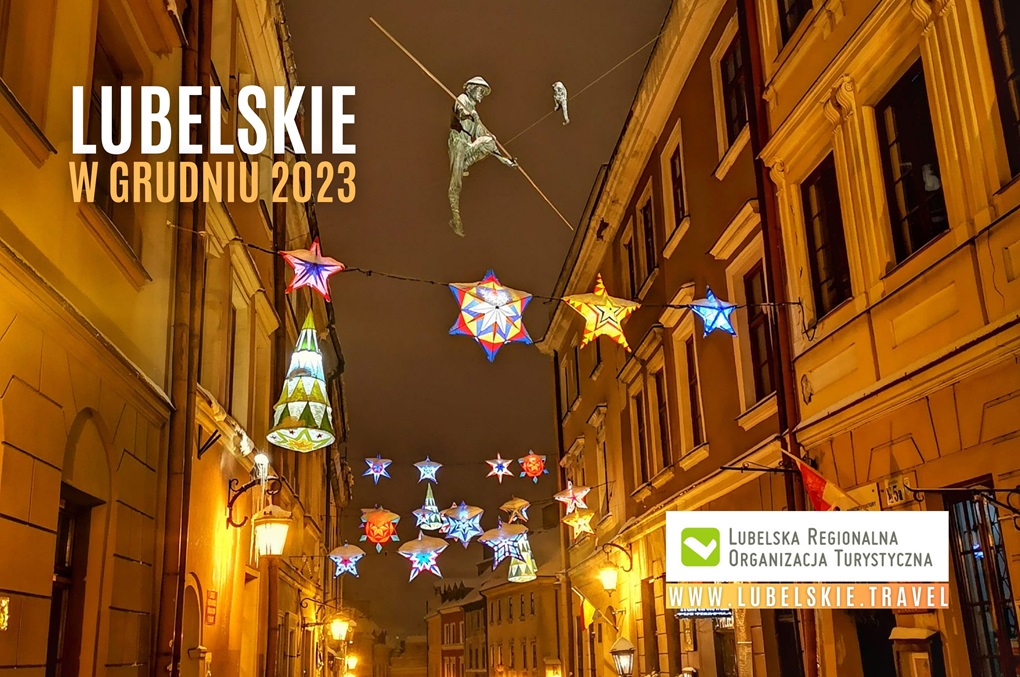 Poczuj wyjątkową atmosferę świąt i poznaj lubelskie tradycje podczas bożonarodzeniowych jarmarków w Lublinie, Zamościu, Kazimierzu Dolnym, Białej Podlaskiej, Janowie Lubelskim oraz wielu innych urokliwych miejscowościach regionu. W poszukiwaniu szczęścia na przyszły rok zajrzyj do Sławatycz i spotkaj miejscowych brodaczy. Przed Tobą przepiękne iluminacje, interesujące koncerty, spektakle i wystawy - skorzystaj z przygotowanego przez nas kalendarza wydarzeń i sprawdź czym zaskoczy Cię Lubelskie w grudniu! ...
2023-11-30

2023-11-30
Lubelska Regionalna Organizacja Turystyczna zaprasza na szkolenie dla pracowników informacji turystycznej z województwa lubelskiego pt. "Storytelling w pracy informatora turystycznego, na przykładzie wybranych atrakcji", organizowane we współpracy z Polską Organizacją Turystyczną. ...
2023-12-07

2023-12-08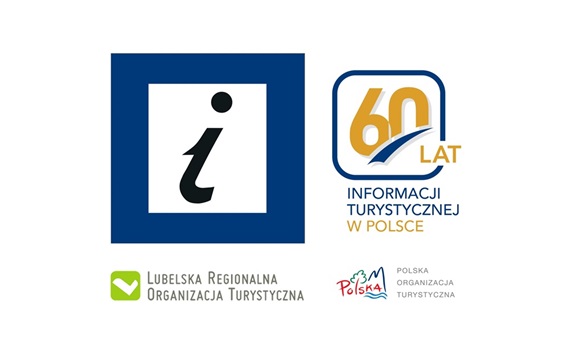 Czy wiesz, że w 2023 roku obchodzimy 60-lecie Informacji Turystycznej w Polsce? To właśnie Lubelskie będzie gospodarzem ogólnopolskich obchodów Jubileuszu. Organizatorami uroczystego wydarzenia, które odbędzie się w dniach 7-8 grudnia br. w Lublinie są Polska Organizacja Turystyczna oraz Lubelska Regionalna Organizacja Turystyczna. ...
2023-11-11

2023-11-12
Narodowe Święto Niepodległości w Lublinie | Muzea, zabytki, atrakcje, wydarzenia Planujesz zwiedzanie Lublina w dniach 11-12 listopada? Dobrze się składa, przed Tobą wiele możliwości, aby spędzić dobrze ten czas. Zwiedzanie zacznij od wizyty w Lubelskim Ośrodku Informacji Turystycznej i Kulturalnej przy Krakowskim Przedmieściu 6, czynnym w standardowych godzinach 9:00-17:00. To tutaj otrzymasz bezpłatny plan Lublina, skorzystasz z możliwości przechowania bagażu czy wypożyczenia audioprzewodnika. Oferujemy także sprzedaż pamiątek i produktów regionalnych. W ramach obcho ...
2023-11-01

2023-11-30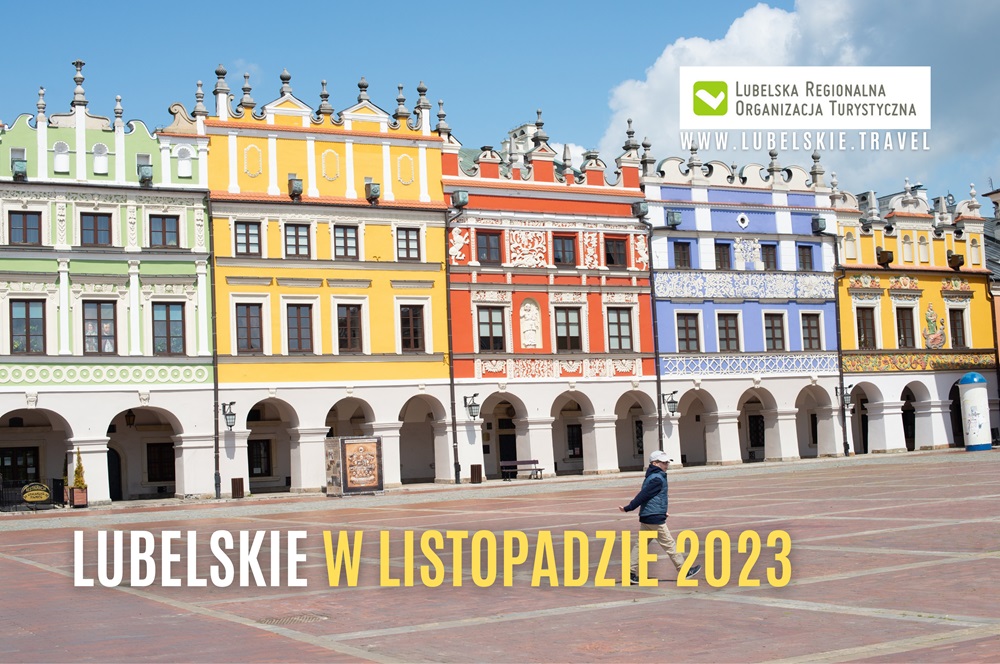 FESTIWALE I WYDARZENIA Restaurant Week Lubelskie. Festiwal Popisowych Menu4 października - 12 listopada 2023 Restaurant Week po raz kolejny w Polsce! Restauracje z Lubelskiego zapraszają wszystkich smakoszy w swoje progi na prawdziwą ucztę! Palce lizać! Więcej informacji na facebook.com/RestaurantWeekPolska IV Spotkania z kulturą węgierską19 października - 12 listopada 2023Lublin Czwarta edycja projektu, mającego na celu promocję kultury węgierskiej w Lublinie. W programie m.in. wystawa, warsztaty oraz cykl filmowy. Więcej informacji na facebook.com Zaduszki poet ...
2023-10-01

2023-10-31
Złota polska jesień w Lubelskim przyniesie ze sobą wiele ciekawych wydarzeń. Przed nami Festiwal Sztuki w Przestrzeni Publicznej Otwarte Miasto, Konfrontacje Teatralne, Chatka Blues Festiwal w Lublinie czy Zamojskie Dni Muzyki. Sprawdź co wydarzy się w październiku w województwie lubelskim. ...
2023-10-04

2023-10-05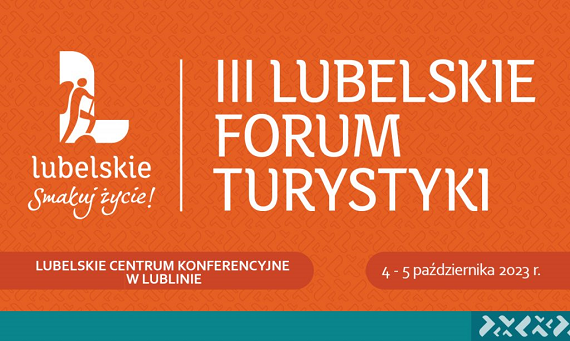 W dniach 4-5 października odbędzie się największe spotkanie przedstawicieli branży turystycznej w województwie lubelskim.W Lubelskim Forum Turystyki udział wezmą eksperci z różnych form działalności na rzecz rozwoju, promocji i wsparcia turystyki. Zapowiada się wiele interesujących paneli dyskusyjnych. W programie wydarzenia prelekcje o turystyce kulinarnej, relacjach w turystyce czy warsztaty o systemach reklamowych w Meta. Organizatorem III Lubelskie Forum Turystyki jest Urząd Marszałkowski Województwa Lubelskiego. Więcej informacji na promocja.lubelskie.pl/lubelskie- ...
2023-09-01

2023-09-30
Koniec wakacji nie oznacza końca atrakcji w województwie lubelskim. Wręcz przeciwnie! Przed Tobą Europejski Festiwal Smaku w Lublinie, Pardes Festival w Kazimierzu Dolnym i Zamościu, Jarmark Michałowy w Białej Podlaskiej, Festiwal Trzech Kultur we Włodawie i wiele innych propozycji, które zebraliśmy w jednym miejscu specjalnie dla Ciebie. Sprawdź co wydarzy się we wrześniu w Lubelskim. ...
2023-08-17

2023-08-18
Lubelska Regionalna Organizacja Turystyczna i Starostwo Powiatowe w Łęcznej zapraszają na prezentację oferty Powiatu Łęczyńskiego w Lubelskim Ośrodku Informacji Turystycznej i Kulturalnej, ul. Krakowskie Przedmieście 6, w dniach 17-18 sierpnia 2023 r. w godzinach 11.00-18.00. ...
2023-08-15

2023-08-15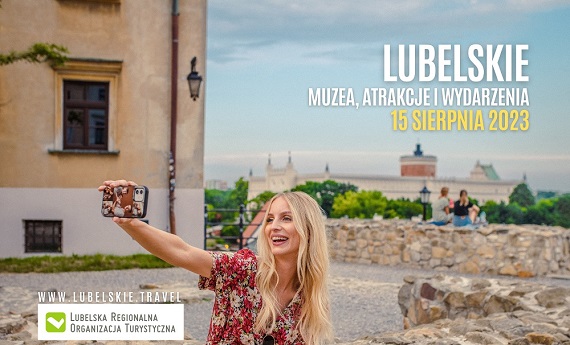 Planujesz odwiedzić Lubelskie 15 sierpnia? Przed Tobą wiele możliwości! Sprawdź, które muzea i atrakcje będą otwarte oraz co wydarzy się tego dnia w województwie lubelskim: ...