2023-11-11

2023-11-12
Narodowe Święto Niepodległości w Lublinie | Muzea, zabytki, atrakcje, wydarzenia
Planujesz zwiedzanie Lublina w dniach 11-12 listopada? Dobrze się składa, przed Tobą wiele możliwości, aby spędzić dobrze ten czas.
Zwiedzanie zacznij od wizyty w Lubelskim Ośrodku Informacji Turystycznej i Kulturalnej przy Krakowskim Przedmieściu 6, czynnym w standardowych godzinach 9:00-17:00. To tutaj otrzymasz bezpłatny plan Lublina, skorzystasz z możliwości przechowania bagażu czy wypożyczenia audioprzewodnika. Oferujemy także sprzedaż pamiątek i produktów regionalnych.
W ramach obchodów Święta Niepodległości odbędzie się 8. Lubelski Bieg Niepodległości, start 9:00 spod Ogrodu Saskiego.
Uroczysty przemarsz od katedry do placu Litewskiego planowany jest w godz. 11:15-11:45. W korowodzie udział weźmie orkiestra wojskowa, poczty sztandarowe, pododdziały służb mundurowych oraz zaproszeni goście.
Muzeum Narodowe oraz Kaplica Trójcy Świętej będą dostępne w godzinach 9:00 – 18:00, zaś czarujący widok Starego Miasta z tarasu na Wieży Zamkowej można będzie obejrzeć w godzinach 9:00-19:00.
Lubelska Trasa Podziemna zaprasza na odkrywanie tajemnic Koziego Grodu w trakcie spaceru starymi kupieckimi piwnicami. Spacery z przewodnikami odbędą się 12 listopada o godzinie 12:00 i 13:00, oraz – z inscenizacją – o 14:00 i 16:00. Bilety można nabyć na stronie internetowej: bilety.teatrnn.pl lub w Centrum Informacji Bramy Grodzkiej przy Grodzkiej 21 (czynne w dni powszednie).
Dla miłośników podziemi, mamy jeszcze jedną propozycję – w sobotę w godz. 12:00, 13:00, 14:00 i 15:00 dostępne dla turystów będą Podziemia Browaru Perła. W trakcie zwiedzania przewodnik opowie o tajnikach warzenia piwa oraz przybliży historię rodziny Vetterów, założycieli lubelskich zakładów browarniczych. Zwiedzanie jest zakończone degustacją złotego trunku.
Muzeum Wsi Lubelskiej zaprasza na tematyczne zwiedzanie, w trakcie którego zostanie przybliżony obraz lubelskiej wsi w okrasie odradzającego się Państwa Polskiego. Spacer odbędzie się w sobotę 11 listopada w godz. 10:00-12:00. Obowiązują zapisy.
W sobotę 11 listopada teren Państwowego Muzeum na Majdanku pozostaje dostępny dla zwiedzających w godz. 9:00-16:00 (ostatnie wejście na godzinę przed zamknięciem). Zamknięte będą Centrum Obsługi Zwiedzających, wystawa "Więźniowie Majdanka" w baraku nr 62 oraz ekspozycja "Shrine" w baraku nr 47.
Regionalne Muzeum Cebularza zaprasza na pokazy wypieku lubelskiej przekąski w godzinach: 12:30, 14:30 i 16:00. Zalecana jest wcześniejsza rezerwacja.
Wybierz się na klimatyczny i magiczny spacer po Lumina Park – Historia Światła. Ogród Świateł będzie otwarty w godzinach 16:30 - 21:00.
Przejdź się przeszklonymi korytarzami wśród lubelskiej roślinności na czwartym i piątym piętrze Centrum Spotkania Kultur. Tarasy będą udostępnione dla odwiedzających w godz. 8:00-17:00, zaś budynek wraz z wystawami będzie dostępny w godz. 8:00-21:00.
Odwiedź lubelskie świątynie – przepiękne polichromie zobaczysz na wysokich ścianach Archikatedry św. Jana Chrzciciela i św. Jana Ewangelisty, zaś w Bazylice ojców Dominikanów przy ulicy Złotej można zobaczyć świecki obraz "Pożar Miasta Lublina".
W ramach spotkań z cyklu "Wieczory Muzyczne w Kościele Pobrygidkowskim" w sobotę o godz. 18:45 odbędzie się koncert pieśni patriotycznych w wykonaniu Parafialnej Orkiestry Dętej z Szastarki k. Kraśnika.
Jak wyglądał proces niepodległościowy w Lublinie? Odpowiedź na to pytanie poznasz w trakcie spaceru "Lubelskie drogi do wolności" z Przewodnikiem Inspiracji Łukaszem Fiutą w sobotę o godz. 13:00. Bilety do nabycia na stronie internetowej: lublininfo.com/poznaj-lublin-z-przewodnikiem lub stacjonarnie w Centrum Inspiracji Turystycznej przy ul. Jezuickiej 1/3.
W ramach trwającego Festiwalu Kuchnia Inspiracji można będzie wziąć udział w spacerze ,,Jak niegdyś jadano, czyli śladami kulinarnego Lublina" prowadzonym przez Martę Łukasik. Przewodniczka Inspiracji opowie o potrawach jadanych przez lubelskich mieszczan, daniach którymi delektowali się magnaci, najpopularniejszych smakołykach oraz tym, za czym kucharze nie przepadali. Brzmi interesująco i smakowicie! Spacer wyruszy w niedzielę o godz. 11:00 z Placu Łokietka. Udział w wydarzeniu jest bezpłatny.
Jeśli zaś planujesz wieczorny spacer po centrum Lublina, pewnością urzekną Cię biało-czerwone iluminacje. Od godziny 16:00 narodowymi barwami oświetlony będzie m.in. Plac Litewski i kładka w Parku Ludowym.


Narodowe Święto Niepodległości w Regionie | Muzea, zabytki, atrakcje
Jak przedstawia się sytuacja w regionie? Przedstawiamy listę atrakcji turystycznych dostępnych 11 listopada:
Bolesław Prus i Stefan Żeromski zapraszają do Nałęczowa. Muzeum Literackiego Bolesława Prusa i Chata Żeromskiego w Nałęczowie będą dostępne w godzinach 9:00-16:00, zaś Retro Meleks – Podróże po Nałęczowie i Wąwolnicy zaprasza na przejażdżki po wcześniejszej rezerwacji.
Nocne Zwiedzanie Kazimierza Dolnego to ciekawa propozycja na spacer po lessowych wąwozach w świetle pochodni. Wymaga jest wcześniejsza rezerwacja.
Muzeum Sił Powietrznych w Dęblinie zaprasza odwiedzających na dzień bezpłatnego wstępu w godz. 9:00-16:00, zaś o 13:00 będzie możliwość udziału w specjalnym oprowadzaniu kuratorskim po najnowszej wystawie czasowej "Mundury lotniczce Marynarki Wojennej RP i wybrane elementy wyposażenia".
Muzeum Zamojskie oraz Muzeum Broni i Fortyfikacji w Zamościu będą otwarte w godzinach 10:00-16:00.
W Zamościu można wybrać się na spacer Trasą Turystyczną w Podziemiach Oficyn Ratusza, wejście z przewodnikiem o godzinie 14:00, zaś Trasa Turystyczna w Bastionie VII zaprasza o godznie 14:00.
Spacer ścieżkami Ogrodu Zoologicznego im. Stefana Millera w Zamościu jest możliwy w godzinach 9:00-15:00.
Zwiedzanie zabytkowego Browaru Zwierzyniec w sercu Roztocza jest dobrą propozycją spędzenia wolnego czasu.
Wyjątkowa okazja na odkrycie tajemnic Zamku w Janowie Podlaskim nadarzy się 12 listopada.
Teren upamiętnienia w Muzeum i Miejscu Pamięci w Bełżcu będzie otwarty w sobotę w godz. 9:00 - 16:00, jednak wystawa muzealna pozostanie niedostępna dla odwiedzających.
Teren Muzeum i Miejsca Pamięci w Sobiborze będzie otwarty dla zwiedzających do zmroku, zaś ekspozycja stała będzie zamknięta.
Narodowe Święto Niepodległości - Lublin i region | Wydarzenia
W tym czasie nie zabraknie wielu ciekawych wydarzeń w Lublinie i województwie lubelskim. Przygotowaliśmy propozycje spędzenia wolnego czasu:
W uroczysty nastrój wprowadzi Was Narodowy Koncert Listopadowy w Filharmonii Lubelskiej, który odbędzie się już w piątek, 10 listopada, o godz. 18:00. Do udziału w wydarzeniu uprawniają bezpłatne wejściówki.
11 listopada o godz. 19:00 w Parafii Św. Jana Chrzciciela i Św. Bartłomieja Apostoła w Kazimierzu Dolnym odbędzie się wyjątkowy Koncert Niepodległościowy w ramach Kazimierskiego Festiwalu Organowego. Stowarzyszenie Anthill zaprasza na występ Marcina Armańskiego, który zagra na organach, zaś Robert Gonet zajmie się recytacją patriotyczną.
Tego samego dnia na deskach sali widowiskowej w Nałęczowskim Ośrodku Kultury w Nałęczowie o godz. 15:00 wystąpi dziecięcy Zespół Pieśni i Tańca "Dąbrowica", zaś następnie obędzie się spektakl teatralny "Ziemianki – przędziemy wspomnienia", który zaprezentuje Stowarzyszenie Wzorem Ziemianek. Dzień zostanie zakończony ogniskiem integracyjnym, towarzyszyć będą utwory w rytmie polskiego rocka i poezji śpiewanej.
Wsiąść do pociągu... Nadwiślańska Kolei Wąskotorowa w Karczmarskach przygotowała specjalną, niepodległościową ofertę przejazdu. Wymaga jest wcześniejsza.
W Chełmskim Domu Kultury tradycyjnie zostaną zaprezentowane pieśni oraz piosenki patriotyczne. Koncert "Niepodległa" to już chełmska tradycja. Wydarzenie, które odbędzie się w sobotę o godz. 18:00, jest biletowane – cegiełki do nabycia w Chełmskim Domu Kultury i Centrum Kultury Fizycznej Zorza.
Miasto Zamość zaprasza do uroczystego świętowania 105. rocznicy odzyskania Niepodległości. Obchody rozpoczną się od Marszu Niepodległościowego, który wyruszy spod pomnika Marszałka Józefa Piłsudskiego o godz. 10:00, i przemarszu na Rynek Wielki. O godz. 13:15 odbędzie się manifestacja patriotyczna na Rynku Wielkim. Wojskowy ceremoniał oraz złożenie kwiatów będą miały miejsce przy tablicy upamiętniającej pobyt Marszałka w Zamościu.
W Łęcznej obchodom uzyskania Niepodległości będzie towarzyszyć inscenizacja słowno-muzyczna przygotowana przez uczniów z Zespołu Szkół im. Króla Kazimierza Jagiellończyka w Łęcznej oraz Nadii Podkowskiej z Młodzieżowego Ośrodka Wychowawczego w Podgłębokiem.
Miasto Lubartów w ramach obchodów niepodległościowych przygotowało wiele interesujących wydarzeń. W powiatowym Młodzieżowym Domu Kultury obędzie się Koncert "Niepodległa młodych", zaś Lubartowski Ośrodek Kultury zapełni się dźwiękami pieśni patriotycznych w ramach XII Wspólnego śpiewania pieśni patriotycznych z udziałem Męskiej Okazjonalnej Grupy Wokalnej "Chór-townia" i Chóru Ziemi Lubartowskiej.
Janów Lubelski zaprasza na pierwszą edycję janowskiego ogniska patriotycznego ,,Nasze drogi do wolności 1918-1944" na placu przy Kościele Św. Jadwigi Królowej o godz. 18:00.
Na deskach Gminnego Ośrodka Kultury w Janowie Podlaskim odbędzie się koncert patriotyczny zespołu "Cototu".
Na Placu Wolności w Radzyniu Podlaskim w samo południe (godz. 12:00) mieszkańcy zaśpiewają razem Hymn Niepodległej. Możesz do nich dołączyć!
W Kraśniku świętowanie niepodległości zostanie zakończone koncertem Jacka Kadisa pt.: "Moja Miła, Moja Droga, Moja Polsko". W Kinie "Metalowiec" zostanie puszczona projekcja filmu "Bitwa Warszawska 1920".
Obchody Narodowego Święta Niepodległości odbędą się także w Wojsławicach. Po części oficjalnej, która rozpocznie się o godz. 12:00 w kościele pw. św. Michała przyjdzie czas na część artystyczną w Domu Kultury w Wojsławicach, gdzie zaprezentuje się chór "Wojsławianie" oraz zespół "Czerwona Jarzębina"
W Józefowie w sobotę świętowanie rozpocznie Rajd Niepodległości - Rajd Rowerowy, organizowany przez Józefowską Kawalerię Rowerową.
W Tomaszowie Lubelskim na deskach Tomaszowskiego Domu Kultury w sobotę o godzinie 15:00 odbędzie się Powiatowy Przegląd Pieśni Ptriotycznej i Legionowej.
Narodowe Święto Niepodległości na sportowo
Sport to zdrowie, więc świętuj 11 listopada aktywnie w województwie lubelskim:
W Świdniku odbędzie się XXI edycja Ulicznych Biegów Niepodległościowych – start o godz. 12:00
W Zamościu na Krytej Pływalni OSiR odbędą się zawody pływackie stylem dowolnym dedykowane dorosłym oraz dzieciom – "Pływamy dla Niepodległej – 100m na 105. rocznicę odzyskania Niepodległości". Dla młodzieży szkolnej OSiR organizuje zabawę rowerową.
Przygotuj wygodne buty! Sportowy dzień zapowiada się w Białej Podlaskiej. W sobotni poranek (godz. 9:00) odbędzie się rajd rowerowy pt.: "Bialski Szlak niepodległościowy" z TKKF Biała Podlaska – Klub rekreacyjno-sportowy, zaś o godz. 13:00 odbędzie się druga edycja Biegu Niepodległościowego o Puchar Prezydenta Miasta, którego organizatorem jest Klub Biegacza Biała Biega.
Miasto Łuków zostanie przejęte przez XXXI Łukowskie Uliczne Biegi Niepodległości pod patronem Marszałka Województwa Lubelskiego oraz Rady i Burmistrza Miasta Łuków. Nie zapomnijcie także o części artystycznej w Łukowskim Ośrodku Kultury.
Chełmska Grupa Rowerowa organizuje 25-kilometrowy Rajd Rowerowy, który zostanie zakończony ogniskiem i wspólnym śpiewem. Statr w Chełmie.
Gmina Sławatycze zaprasza do wzięcia udziału w Marszu Niepodległości ze Sławatycz do Janówki. W programie przewidziano śpiewanie pieśni patriotycznych, zaś zmarznięte dusze rozgrzeje ognisko i wcześniej przygotowany poczęstunek.
Aktywnie świętować będzie także Gmina Jabłonna. W sobotę o godz. 10:00 w Strzelnicy Piotrków odbędzie się otwarty trening strzelecki z zawodami.
W ramach VII edycji Rajdu Rowerowego w Janowie Lubelskim będzie możliwość zapoznania się z lokalną historią.
W Tomaszowie Lubelskim można wziąć udział w Biegu Sztafetowym 105 km na 105. rocznicę odzyskania Niepodległości, start o 8:00 w Parku Miejskim.
Miasto Kraśnik zaprasza na Kraśnicki Bieg Niepodległości i Bieg Przedszkolaków, bieg zaczyna się na Placu Wolności.
W niedziele (12 listopada) w Rykach odbędzie się XIII Bieg Niepodległości pod honorowym patronatem Marsałka Województwa Lubelskiego Jarosława Stawiarskiego.
[artykuł aktualizowany]
2023-12-07

2023-12-10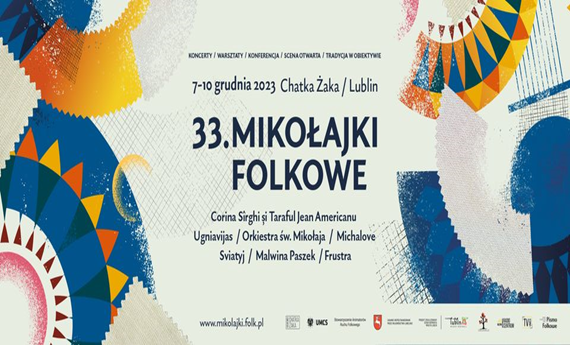 Cztery dni pełne niesamowitej muzyki, tańca i niezapomnianych doświadczeń te hasła zachęcają do udziału w 33. edycji Mikołajek Folkowych. W programie przygotowano wieeele ciekawych wydarzeń.
Więcej informacji na facebook.com
2023-12-07

2023-12-08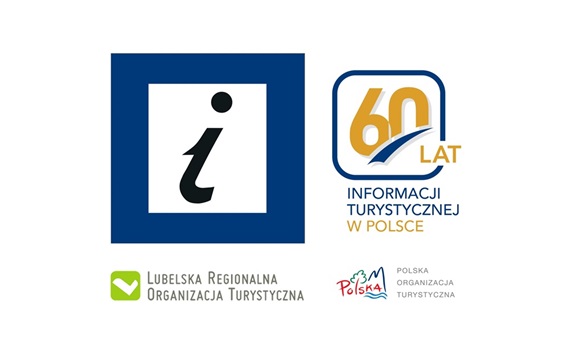 Czy wiesz, że w 2023 roku obchodzimy 60-lecie Informacji Turystycznej w Polsce? To właśnie Lubelskie będzie gospodarzem ogólnopolskich obchodów Jubileuszu. Organizatorami uroczystego wydarzenia, które odbędzie się w dniach 7-8 grudnia br. w Lublinie są Polska Organizacja Turystyczna oraz Lubelska Regionalna Organizacja Turystyczna.
2021-10-15

2021-11-03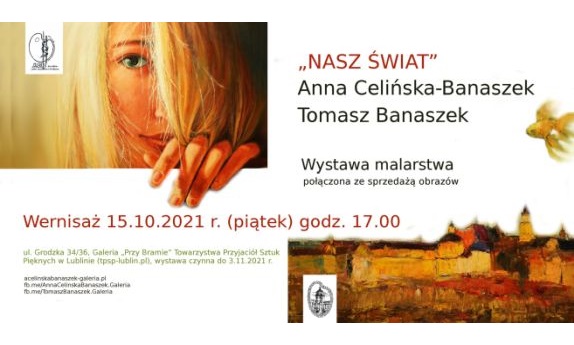 Wernisaż wystawy malarstwa Anny Celińskiej Banaszek i Tomasza Banaszka "Nasz świat" odbędzie się w Galerii TPSP "Przy Bramie" 15 października, zaś wystawę będzie można oglądać do 3 listopada.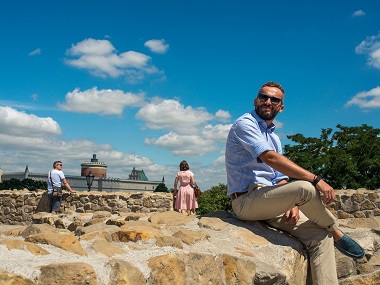 Lublin Old Town is a mobile app in the form of an audioguide, that will allow you to see Lublin in an easy and interesting way. During about an hour-long walk you will learn about the most interesting parts of the city's history, as well as the most crucial monuments and landmarks located at the Old Town and it's area. The tour is possible in 5 linguistic versions: Polish, English, German, Ukrainian, and Russian.
The trail that starts and ends in the Lublin Tourist and Cultural Information Centre (ul. Krakowskie Przedmieście 6) will show you the places like the Market Square, Po Farze Square, Dominican Church, Archcathedral, post-Bridgettine Church, Julisz Osterwa Theatre, Litewski Square, Krakowskie Przedmieście, New Town Hall, and Cracow Gate.
The app for the phones with the Android OS is available for free download via Google Play:
www.play.google.com
The app for the phones with the iOS:
www.apps.apple.com
It's worth to mention that you can also see Lublin with the audioguides in five linguistic versions. In the Lublin Tourist and Cultural Information Centre there are 40 devices that will take you on a walk along one of the five themed trails of Lublin, such as the Multicultural Trail, Jagiellonian Trail of the Union of Lublin, Famous Lubliners Trail, Architectural Trail, and Heritage Trail of the Lublin Jews. Additionally, you will also find the Old Town Trail on the audioguide.
The magnificent Archcathedral is a must-see when visiting Lublin. It is a former Jesuit church, built in 1586-1604. The temple was built according to the design of Italian architects Jan Mario Bernardoni and Joseph Bricci, in the Baroque style. The church was modeled on the Roman Jesuit temple Il Gesu. In 1604 the church was consecrated by the Cracow bishop Bernard Maciejowski and received a call of St. John the Baptist and St. John the Evangelist. Along with the church, the Jesuits built a college which buildings once surrounded today's Cathedral Square. After a fire in 1752, the church was rebuilt. At that time, the famous illusionist polychromes by master Joseph Mayer were created.
ul. Złota 9
20-112 Lublin
tel. +48 81 532 89 80
www.lublin.dominikanie.pl


This fortified gate built in the 14th c. was a part of the defensive city walls. It was also a gateway between the Christian and Jewish quarters, which is why it was often referred to as the Jewish Gate. It was originally built as a quadrilateral structure crowned with crenels. Later on a foregate supported with buttresses was added.
The Cracow Gate is one of the architectural symbols of Lublin. Its name derives from the fact that the gate is directed towards the historical route that led to Cracow, the then capital of the state.
Plac Teatralny 1
20-029 Lublin
+48 81 441 56 70
www.spotkaniakultur.com
biuro@spotkaniakultur.com
Offer available with the Tourist Card.
{gallery}magazynek/galeria/files/en/19{/galler116