2022-07-07

2022-07-10
The final date and form of the event will depend on the epidemic situation in the country and the Organizers' decision.
The festival features a series of cultural events, concerts, exhibitions and art workshops involving Polish and foreign musicians, artists, and key figures from the fields of cinema, media and science. The events take place in two partner cities: Lublin and Lviv.
2022-05-06

2022-07-03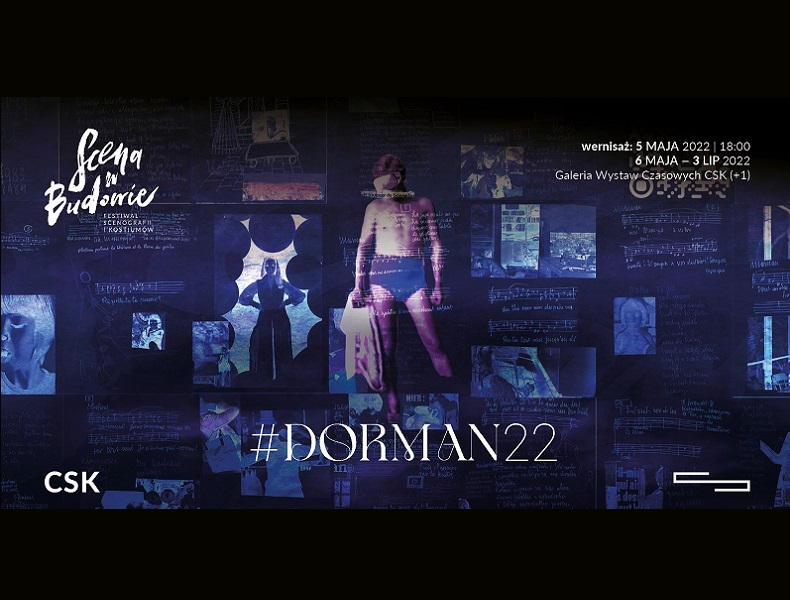 Na wystawie w ramach Festiwalu "Scena w Budowie" w CSK zobaczymy obiekty związane z Janem Dormanem i jego twórczością. Znajdzie się tam również oryginalna "sklejka", czyli autorska struktura papierowa stworzona przez artystę, a także kompozycje multimedialne, animacje video i VR, dzięki którym widz przeniesie się do przestrzeni Dormana.
2022-07-30

2022-08-05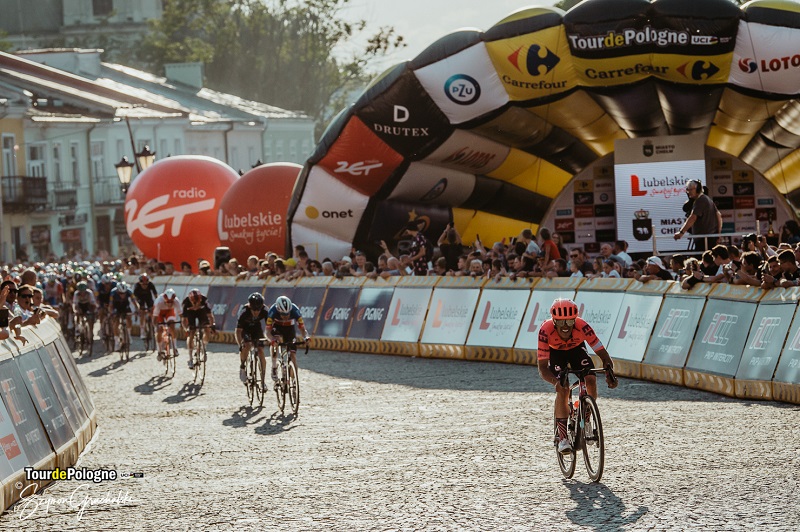 79. Tour de Pologne ponownie przejedzie przez Lubelskie! Teren województwa będzie gospodarzem całości drugiego etapu, drugiej części pierwszego odcinka wraz z metą w Lublinie oraz startu do trzeciego etapu i pierwszej fazy tego rozdziału zmagań na polskich szosach. Trasa jednego z najważniejszych etapowych wyścigów kolarskich w prestiżowym cyklu UCI World Tour, w tym roku poprowadzi przez Kazimierz Dolny, Płaskowyż Nałęczowski, Lublin, Chełm, Hrubieszów, Roztocze Wschodnie i Środkowe, Zamość, Kraśnik, Janów Lubelski i Lasy Janowskie. Oprócz rywalizacji na najwyższym poziomie, nie zabraknie pięknych krajobrazów Lubelszczyzny, unikalnych walorów przyrodniczych, kulturowych, historycznych oraz urbanistycznych. Wyżynny przełom Wisły wcinającej się w skały dawnych kamieniołomów, obszar o najgęstszej sieci lessowych wąwozów w Europie, wielokulturowy, 700-letni Lublin, kredowy Chełm z górującą nad nim bazyliką, Pogranicze usiane cerkwiami, faliste Roztocze pełne lasów i kolorowych mozaik pól, renesansowy Zamość, bezkresne Lasy Janowskie z żubrem i konikiem biłgorajskim w tle - to tylko niektóre atrakcje, czekające na tych, którzy będą śledzić relację z wyścigu.
2022-05-26

2022-08-07
Centrum Spotkania Kultur po raz kolejny udostępnia kolekcję plakatów do wszystkich filmów reżysera Andrzeja Wajdy. Na potrzeby wystawy utworzono nowe plakaty, których autorem jest Andrzej Pągowski, grafik, malarz i społecznik.
2021-10-15

2021-11-03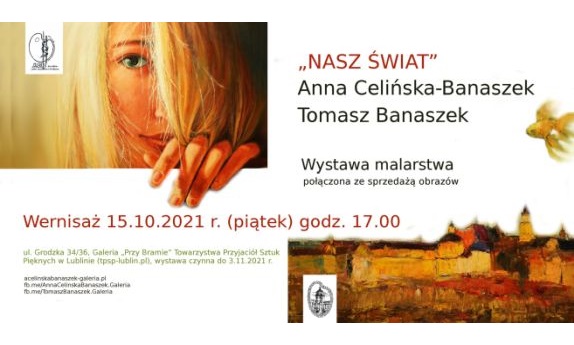 Wernisaż wystawy malarstwa Anny Celińskiej Banaszek i Tomasza Banaszka "Nasz świat" odbędzie się w Galerii TPSP "Przy Bramie" 15 października, zaś wystawę będzie można oglądać do 3 listopada.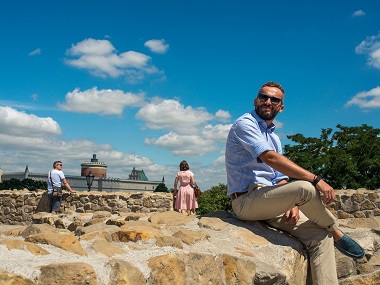 Lublin Old Town is a mobile app in the form of an audioguide, that will allow you to see Lublin in an easy and interesting way. During about an hour-long walk you will learn about the most interesting parts of the city's history, as well as the most crucial monuments and landmarks located at the Old Town and it's area. The tour is possible in 5 linguistic versions: Polish, English, German, Ukrainian, and Russian.
The trail that starts and ends in the Lublin Tourist and Cultural Information Centre (ul. Krakowskie Przedmieście 6) will show you the places like the Market Square, Po Farze Square, Dominican Church, Archcathedral, post-Bridgettine Church, Julisz Osterwa Theatre, Litewski Square, Krakowskie Przedmieście, New Town Hall, and Cracow Gate.
The app for the phones with the Android OS is available for free download via Google Play:
www.play.google.com
The app for the phones with the iOS:
www.apps.apple.com
It's worth to mention that you can also see Lublin with the audioguides in five linguistic versions. In the Lublin Tourist and Cultural Information Centre there are 40 devices that will take you on a walk along one of the five themed trails of Lublin, such as the Multicultural Trail, Jagiellonian Trail of the Union of Lublin, Famous Lubliners Trail, Architectural Trail, and Heritage Trail of the Lublin Jews. Additionally, you will also find the Old Town Trail on the audioguide.
The magnificent Archcathedral is a must-see when visiting Lublin. It is a former Jesuit church, built in 1586-1604. The temple was built according to the design of Italian architects Jan Mario Bernardoni and Joseph Bricci, in the Baroque style. The church was modeled on the Roman Jesuit temple Il Gesu. In 1604 the church was consecrated by the Cracow bishop Bernard Maciejowski and received a call of St. John the Baptist and St. John the Evangelist. Along with the church, the Jesuits built a college which buildings once surrounded today's Cathedral Square. After a fire in 1752, the church was rebuilt. At that time, the famous illusionist polychromes by master Joseph Mayer were created.
ul. Złota 9
20-112 Lublin
tel. +48 81 532 89 80
www.lublin.dominikanie.pl


This fortified gate built in the 14th c. was a part of the defensive city walls. It was also a gateway between the Christian and Jewish quarters, which is why it was often referred to as the Jewish Gate. It was originally built as a quadrilateral structure crowned with crenels. Later on a foregate supported with buttresses was added.
The Cracow Gate is one of the architectural symbols of Lublin. Its name derives from the fact that the gate is directed towards the historical route that led to Cracow, the then capital of the state.